changing the way the world grows
We are a vertical farming technology and greenhouse operations company that is publicly traded on the Canadian Securities Exchange under the symbol AFI and on the OTCQB under the symbol RSSFF
Our growth plan is to aggregate food and cannabis growing facilities in Canada and Aruba, in conjunction with an aggressive international licensing program. There is no other company in the world who has proprietary vertical growing technology, has completed cannabis vertical growing research, and is ready with scale manufacturing capability. There is a first mover advantage, but the driver is quality. There is a quality problem with industrial scale growing that has not been solved. Affinor has exclusive technology to increase quality while reducing cultivation costs.
Our Vision
To become a premium producer of fresh produce and craft cannabis by leveraging our exclusive vertical farming technology and process knowledge.
Our Mission
Affinor is on a mission and we are committed to becoming a pre-eminent supplier of quality food and cannabis in an ethical, environmentally friendly and energy efficient way, and to make a significant economic return for Affinor's partners and shareholders
OUR STORY
Over the last 15 years, Affinor CEO, Nick Brusatore designed and established manufacturing capacity for Affinor's growing towers with Cobotix Manufacturing Inc. in Port Moody BC. The towers provide a 4-10x increase in yield per square meter depending on the crop. It is sustainable technology. Typical water use is cut down by 95%, and soils are remediated onsite.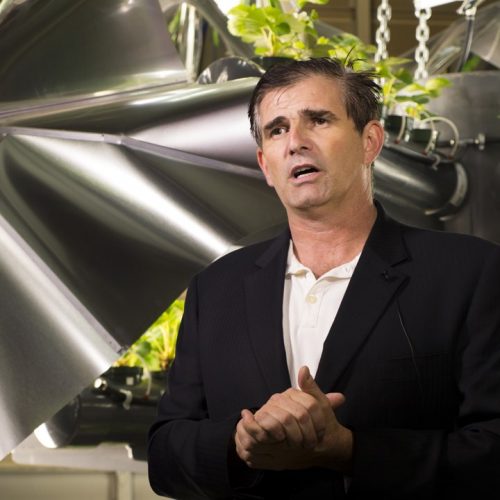 In 2019, Nick Brusatore completed a vertical cannabis test grow using a medical license. The Purple Kush passed all Health Canada standards and tested at 29% THC. The recent private placement also funds the construction and operation of the first full size, 600 kg annual capacity, micro-cultivation licensed, vertically grown cannabis greenhouse and facility. Micro-cultivation licensing is faster, requires less capital investment and shares lab, HR and soil remediation with food growing.
Our core business strategy of is to maximize annual recurring revenue (ARR) by wholly owning and operating greenhouse growing operations using Affinor's patented vertical technology and processes. In this way, we realize the value from the entire vertical up to wholesale/retail. Combining cannabis and food production provides higher margins. International licensing of the company's vertical growing technology and QA process are also expected to bring in high margin sales revenue valued at $10 million over 5 years.
Affinor has leased a 10 year, 15,000 square foot greenhouse in Abbotsford BC. Our first combined facility growing romaine lettuce and strawberries is 90% complete and on schedule for operations to begin in June 2021. The produce is being grown for a Canadian national distributor and the growth plan is to build out 3 additional cannabis and food combined operations in southern Alberta, Ontario and Aruba
International growth is a two-pronged strategy: 1) 100% ownership of combined facilities as in Aruba; and 2) Country-wide licensing fees followed by leasing and sales of towers at a 40% margin. Affinor will pursue cannabis LP, processing and sales licenses both inside and outside Canada. The first Canadian cannabis micro-cultivation license is expected in October 2021, and the first international cannabis license is expected from Aruba in 2021.
Affinor management expects our focus to be on ARR and craft cannabis to yield a 78% gross margin, and steady growth to over $55 million in annual revenue by 2026, most of which will be organically achieved.