Affinor's advantage is a confluence of commercialized research, more favorable regulations, higher quality craft cannabis, sustainability, cleantech, micro-cultivation cost optimization and capital risk reduction. Our proprietary vertical growing technology makes each of these advantages possible.
Health Canada micro-cultivation licensing regulations went into effect October 17, 2018. Initially, there was a backlog of applications which have now been substantially cleared. The licensing has significantly lower costs, operational requirements, and is much faster to obtain – usually 4-6 months after building the facility. Much less capital is required to build out each facility and sit idle during licensing. There is no limit on the number of locations a single company or individual can license. New micro-cultivation regulations are expected in 2022 that will allow direct sales to retailers and onsite consumer sales, among other liberalizations. Within the first 2 years we will become an LP.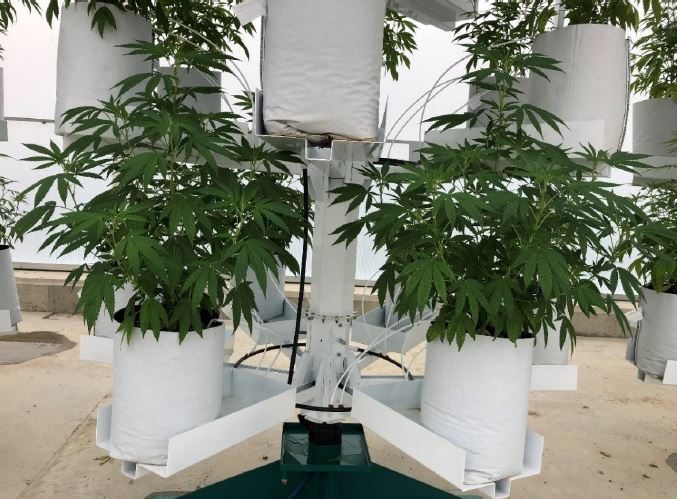 Affinor's vertical growing technology enables the company to optimize the maximum 200 square meter growing area allowed under micro-cultivation licensing. A typical single layer grow would not be able to achieve even 50% of this allowed ceiling. In addition to increased yield, the vertical technology enables better airflow and spacing to reduce potential mould and mildew issues.
With the increase in consumer desire for healthier, sustainably grown produce, the introduction of legalized cannabis, and the changing climate towards legalization in other countries, vertical farming opportunities are rapidly increasing. Management has significant industry experience and a wealth of contacts, products, and proprietary cultivation technologies that match the best in class to position Affinor as a leader in the Vertical Farming sector.
FOOD & CANNABIS Production
Affinor is focused on maximizing ARR by deploying our own vertical growing technology in our own growing facilities for fruit, vegetables and cannabis production. With this model, we can realize the competitive advantages of growing in a 75% smaller greenhouse. Affinor's greenhouse operational strategy is 100% ownership of assets in local corporations holding cannabis licenses, permits and leases to grow in Canada and internationally. In countries that do not allow foreign ownership, or are deemed too risky, we can license the vertical technology with a large upfront payment with tower sales to follow at a 40% margin.
We are combining food and cannabis production at 4 planned facilities – Abbotsford BC, Calgary AB, Toronto ON and Aruba. Another 12 micro-cultivation facilities or LP equivalent will be organically built out from 2023-2026 in Canada and internationally. Cannabis and food growing operations share a lot of resources to optimize costs, including soil remediation, lab and HR. This combination strategy provides a UVP driving technology adoption and turns a multi-acre, multi-million dollar asset with annual revenue of $1.2 million, and a 40% margin, into a $4.7 million annual revenue asset with a 78% margin. Cannabis returns assist in the increased deployment of food growing facilities and vice-versa.
Cannabis is expected to be a 10x revenue contributor compared to food production. There are operational and marketing synergies between the food and cannabis growing operations. Combining food and cannabis production at a shared facility is a sustainable, low risk, high return approach whose time has come.
Cannabis sales is expected to account for 82% of our revenue and 86% of profitability with a 78% gross margin.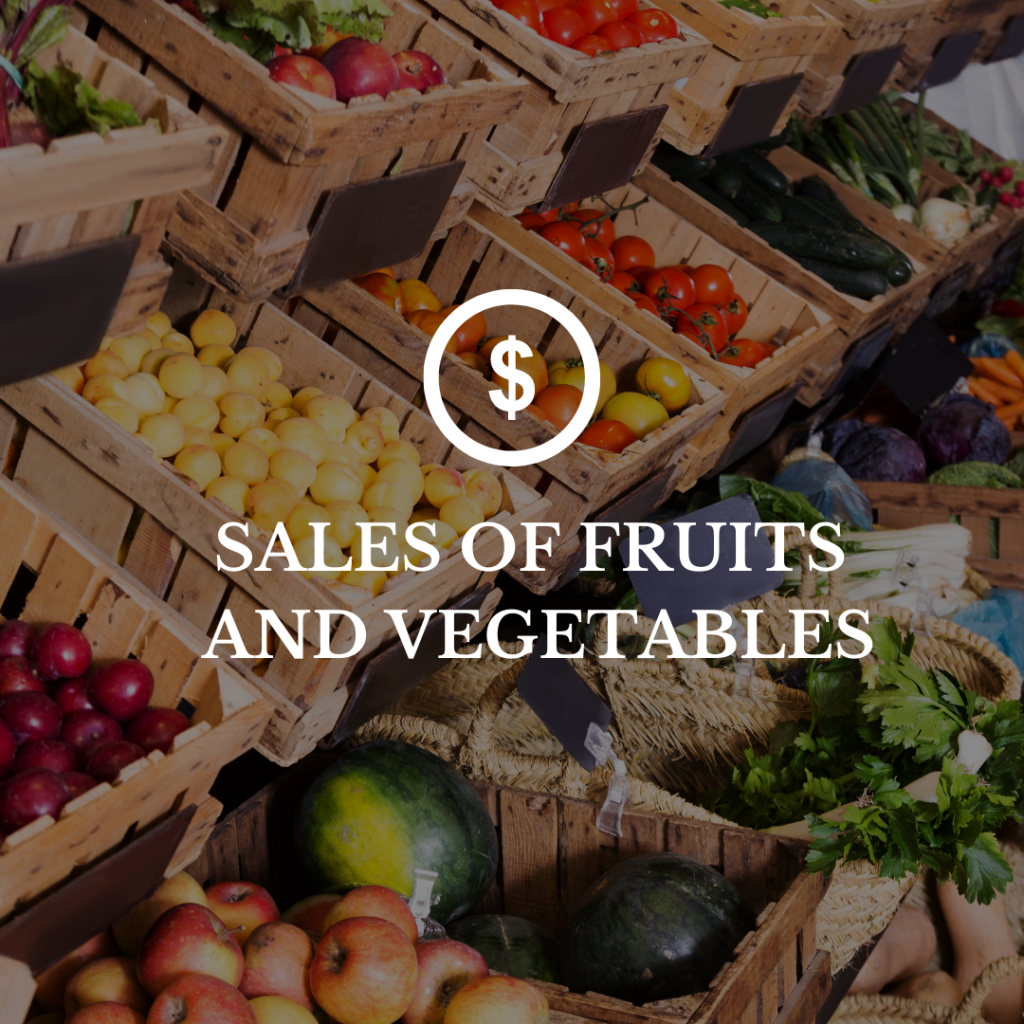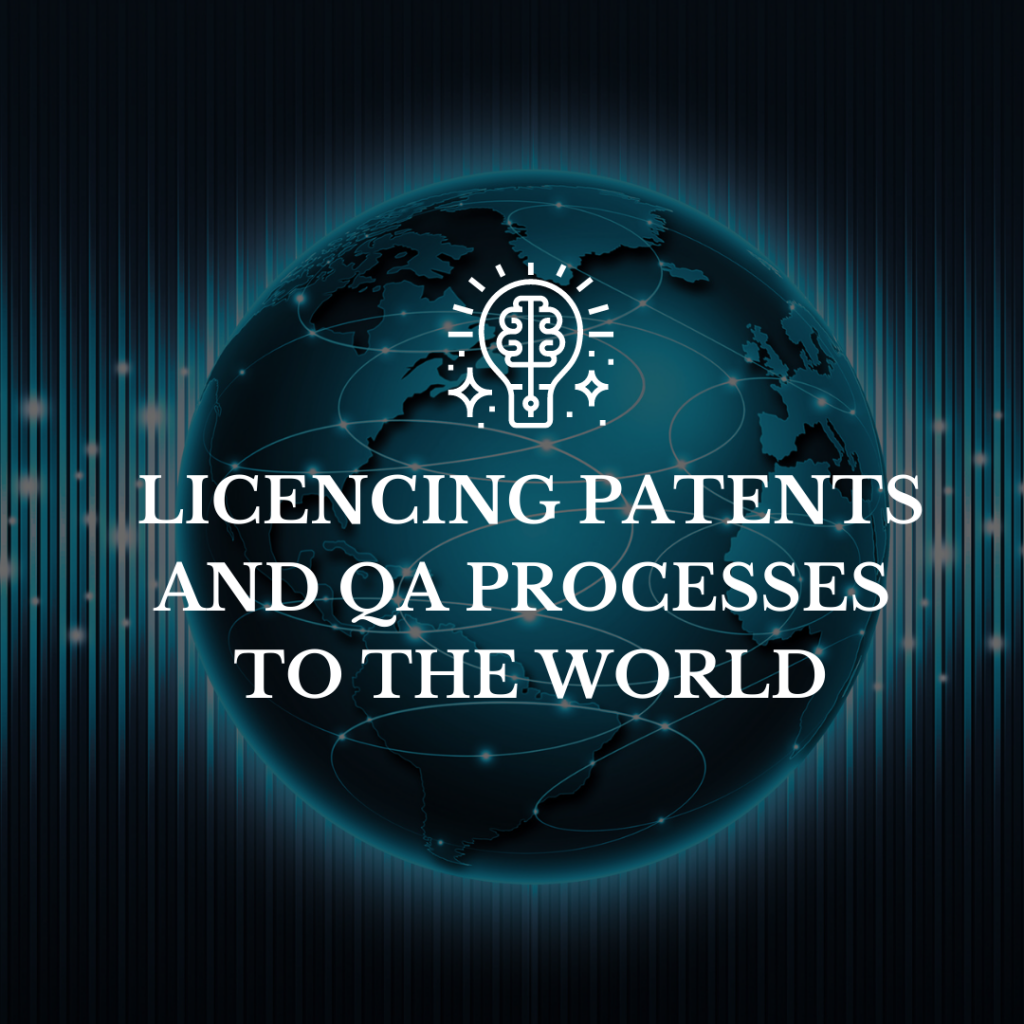 Abbotsford, British Columbia
Affinor has leased a 10 year, 15,000 square foot greenhouse in Abbotsford BC. Our first combined facility growing romaine lettuce and strawberries is 90% complete and on schedule for operations to begin in June 2021. The produce is being grown for a Canadian national distributor and our growth plan is to build out 3 additional cannabis and food combined operations in southern Alberta, Ontario and Aruba.
Affinor will pursue cannabis LP, processing and sales licenses both inside and outside Canada. The first Canadian cannabis micro-cultivation license is expected in October 2021, and the first international cannabis license is expected from Aruba in 2021.
Unique Value Proposition
There is no other company in the world who has proprietary vertical growing technology, has completed cannabis vertical growing research, and is ready with scale manufacturing capability. There is a first mover advantage, but the driver is quality. There is a quality problem with industrial scale growing that has not been solved. Affinor has exclusive technology to increase quality while reducing cultivation costs. Aruba is expected to be the company's most innovative application of its vertical technology using open greenhouses and solar panels—producing to EU GMP standards.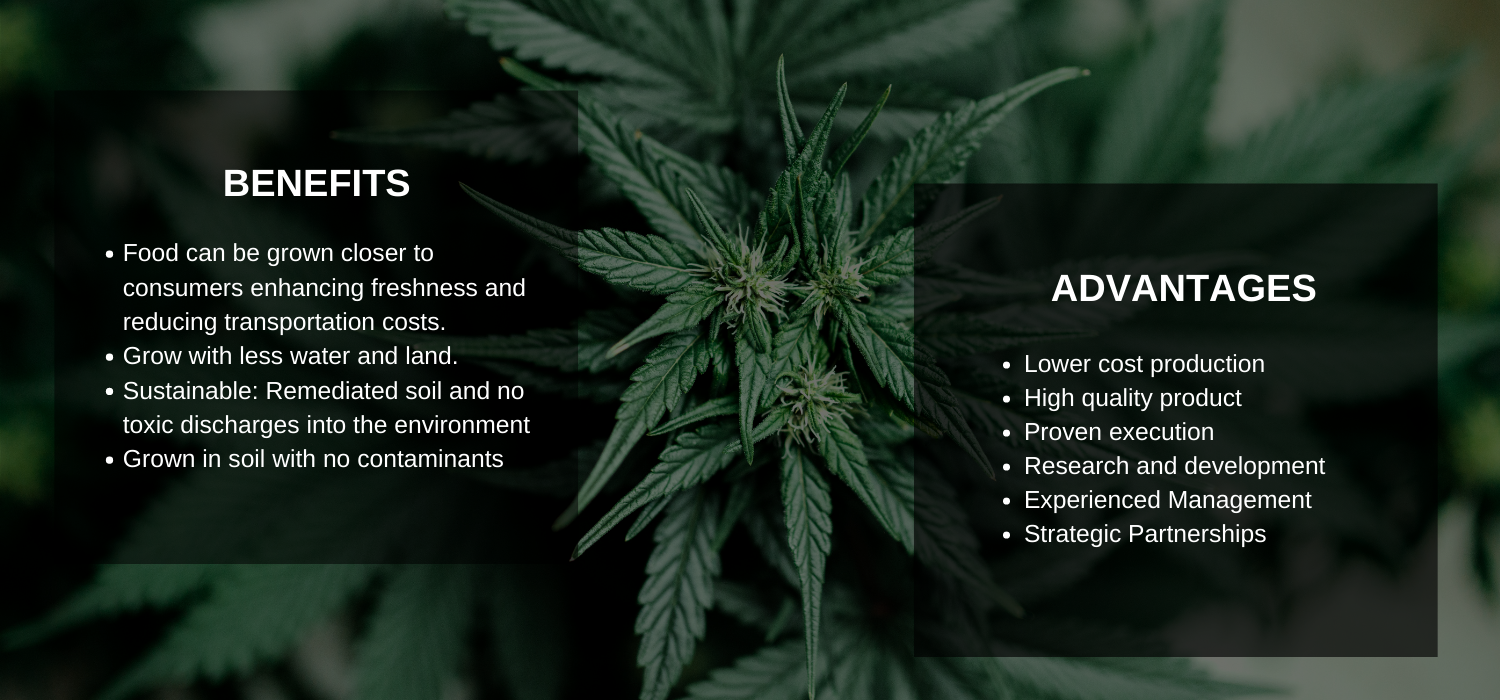 Sustainability
Affinor is at the forefront of the emerging shift toward the production of both quality cannabis grown in a technologically advanced environment, and sustainable fresh produce that is free from pesticides and never exposed to chemicals of any kind. The Company is committed to manufacturing technology for the pollutant-free production of cannabis and food that is fresher, healthier and measurably more nutrient dense than hydroponically grown crops. Greenhouse vertical farming helps to reduce the carbon footprint seen in traditional farming practices by reducing wasted resources, targeted water application and nutrient use, and elimination of the use of pesticides.
Water Management
Over 70% of the planet's fresh water supply is used by agriculture. At the current rate of population growth, it is imperative for the industry to change its approach to water management. Affinor's vertical farming system enables a solution to the global shortage of fresh water as it uses considerably less water than traditional agricultural methods of farming.
By 2025, Canada will be one of the top five competitors in the agri-food sector, recognized as the most trusted, competitive and reliable supplier of safe, sustainable, high-quality agri-food products and an innovator in value-added products to feed the dynamic global consumer.
Sales & Distribution
Food wholesale agreements are being coordinated with a Canadian national distributor. The first harvests of romaine lettuce and strawberries are expected in Q4 2021. An announcement of distribution agreements will be made before then.
Our main focus is building 4 combined food and craft cannabis production operations across Canada and Aruba; and 12 more full size micro-cultivation cannabis facilities in Canada and the USA. A sales license will enable Vertical Designs BC to sell to the BC government online store, to other LPs and the provincial government wholesaler. Health Canada regulatory changes expected in 2022 include selling directly to retailers and an onsite store.
Affinor is in negotiations to purchase Vertical Designs Aruba VBA - a company in the country of Aruba expected to receive the country's first cannabis license in 2021. Several international distributors have expressed interest in carrying high quality medical grade cannabis produced in Aruba. This requires Affinor to produce to EU GMP standards for export to Germany and other EU nations.